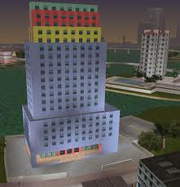 1102 Washington Street
is a highrise apartment located in
Washington Beach
,
Vice City
. It serves as a
safehouse
for the player in
Grand Theft Auto: Vice City
after purchase
Description
The apartment is 19-stories high and features a light-blue exterior color with red, yellow and green colors towards the top. The area around the enterance features a pink exterior paint job and blue-green windows. The apartment is inaccessible to the player and doesn't feature any garages. Because of this, the apartment is cheap and sells for only $3,000. The apartment becomes a safehouse for the player after purchase. The apartment also features a hidden package in the back.
Ad blocker interference detected!
Wikia is a free-to-use site that makes money from advertising. We have a modified experience for viewers using ad blockers

Wikia is not accessible if you've made further modifications. Remove the custom ad blocker rule(s) and the page will load as expected.