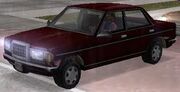 The
Admiral
is a vehicle in the Grand Theft Auto series. It made appearances in
Grand Theft Auto: Vice City
,
Grand Theft Auto: Vice City Stories
, Grand Theft Auto: San Andreas, Grand Theft Auto IV, and Grand Theft Auto: Chinatown Wars. The car doesn't appear in Grand Theft Auto: Liberty City Stories so it is replaced somewhat by the Kruma.
Information
In GTA Vice City and GTA Vice City Stories, the car is a 4-door sedan, able to carry one driver and three passangers. The car is a civilian car and isn't used by gangs in the city. The car can be repainted and resprayed at a Pay N' Spray. The only colors that arn't available for the vehicle at a Pan N' Spray is Grey and White, which these coloured cars can be obtained from missions in the games.
Appearance
The car is based of a Mercedes-Benz W123/300D. The Admiral in the GTA III era is one of the best vehicles and its appearance remains unchanged.
Handeling
| | |
| --- | --- |
| | Rating |
| Turning | Moderate |
| Brakes | Good |
| Acceleration | Good |
| Speed | Good |
| Handeling | Excellent |
Notable Owners
Detailed Parts/Textures
Location(s) in Vice City
Ad blocker interference detected!
Wikia is a free-to-use site that makes money from advertising. We have a modified experience for viewers using ad blockers

Wikia is not accessible if you've made further modifications. Remove the custom ad blocker rule(s) and the page will load as expected.