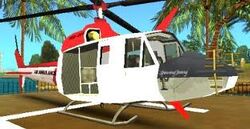 An
air ambulance
is a medical helicopter that only appears in
Grand Theft Auto: Vice City Stories
.
Description
The helicopter shares the same design as the Armadillo, but sports different livery. Its real-life equivalent is the Bell 412 helicopter. The air ambulance shares the same handling and speed as an Armadillo. It has good speed with steep pitches that allow it to help increase the acceleration and to keep it from losing altitude faster.
During the development of Grand Theft Auto: Vice City, the Air Ambulance was going to be made as a Coastguard Maverick, but the helicopter was removed before the game's release.
The helicopter can be used to activate Air Rescue side missions, an equivalent to the Ambulance's Paramedic side mission. The player's max health will be increased upon completing the side mission.
Locations
GTA Vice City Stories
Ad blocker interference detected!
Wikia is a free-to-use site that makes money from advertising. We have a modified experience for viewers using ad blockers

Wikia is not accessible if you've made further modifications. Remove the custom ad blocker rule(s) and the page will load as expected.