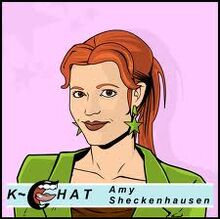 Amy Sheckenhausen
(pronounced Sheck-en-house-in) is a character in the Grand Theft Auto series and a minor character in
Grand Theft Auto: Vice City
. She serves as the host of the
K-Chat
station in
Vice City
. Sheckenhausen is a ditzy girl who has a cheery voice. She is also known to gush over famous guests that come to the station and intends to ignore those that are boring. She sometimes reads a book during interviews and forgets when there's a commercial playing which ends up her talking to herself in the process. She interviews
Jezz Torrent
, BJ Smith, Pat Flannerdy (also called Mr. Zoo), Gethsemanee Starhawk Moonmaker, Michaela Carapadis, Claude Maginot, and Thor the hammer god
Trivia
Amy owns an apartment but lives in her Admiral for the fun of it.
Its said that Amy is known to have a boyfriend.
Amy's favorite show is called Just the Five of Us. Her favorite actors from the show are Claude Maginot and Little Jimmy.
Amy is known to own a unique colored Admiral. The color of the car is unknown.
Ad blocker interference detected!
Wikia is a free-to-use site that makes money from advertising. We have a modified experience for viewers using ad blockers

Wikia is not accessible if you've made further modifications. Remove the custom ad blocker rule(s) and the page will load as expected.