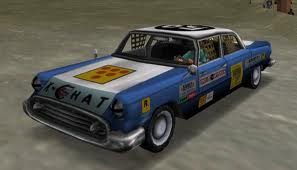 A
Bloodring Banger
is a vehicle that is used in
demolition derby
events. The car appeared in
Grand Theft Auto: Vice City
and Grand Theft Auto: San Andreas
Description
There are two banger variants in GTA Vice City. One banger is based off of a Glendale (called "bloodra") and the other is an Oceanic (called "bloodrb"). The car appears to have four-doors and a back seat but the car can only hold two people. Both cars have decals covering the body of the car as well as different style paint jobs, numbers, and handling.
In GTA San Andreas, there is only one varient of the banger. The only banger used is the Glendale and the car doesn't have decals covering the body.
Numbers
There are a total of 6 numbers for both cars in GTA Vice City.
bloodra (VC)- #11, #41, #48, #59, #73 of #83
bloodrb (VC)- #3, #54 (others being researched)
GTA San Andreas
bloodra (SA)- #100, #172, #284, #328, #469 or #505
Sponsors (GTA Vice City)
BLOODRA
Dunk Your Nuts
Finale
Frap
Musty Pines
The Nut Sack
Tools
BLOODRB
Finale
Frap
Funky Product
Shon-A1 Motors
Tools
Location
GTA Vice City
Detailed Textures/Parts
Gallery
Ad blocker interference detected!
Wikia is a free-to-use site that makes money from advertising. We have a modified experience for viewers using ad blockers

Wikia is not accessible if you've made further modifications. Remove the custom ad blocker rule(s) and the page will load as expected.