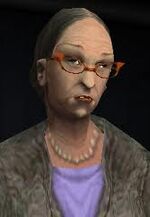 Delores
is a character appearing in
Grand Theft Auto: Vice City
. She was voiced by
Debby Harry
, lead singer of Blondie.
Delores works at Kaufman Cabs as the radio dispatcher. She was also the previous owner of Kaufman Cabs before Tommy Vercetti purchased the business later on in the game. She is also known to be the only one to mention the name of Tommy's gang. When she asks Tommy which gang he is part of, Tommy says that he's not part of any gang. When she asks him his name, Tommy replies with her calling Tommy's gang, the Vercetti Gang.
After the missions are completed, Delores can still be heard on the dispatch radio in the company's cabs.
Mission Appearances