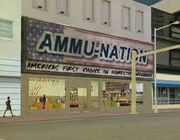 Downtown Ammu-Nation is a weapon shop located in Downtown, Vice City. This is the only Ammu-Nation located on the Vice City mainland.
Types of Weapons it sells
Unlike the other two Ammu-Nations in the city, this one sells heavier and bigger weapons. These weapons are Colt Python/.357, MP5, Spaz Shotgun, M4, PSG-1, and Body Armor.
Prices
Prices for weapons at this shop range from $2,000 to $6,000.
| | |
| --- | --- |
| Colt Python/ .357 | $2,000 |
| MP5/MP | $3,000 |
| Spaz Shotgun/ S.P.A.S. 12 | $4,000 |
| M4 | $5,000 |
| PSG-1/.308 | $6,000 |
| Body Armor | $500 |
Shooting Range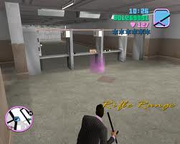 This Ammu-Nation is the only Ammu-Nation in Vice City has a shooting range. The shooting range (also called the
Rifle Range
in GTA VC) is only available for the player to use after the mission
The Shootist
. Using the shooting range again after the mission is complete is required for 100% Completion.
Ad blocker interference detected!
Wikia is a free-to-use site that makes money from advertising. We have a modified experience for viewers using ad blockers

Wikia is not accessible if you've made further modifications. Remove the custom ad blocker rule(s) and the page will load as expected.