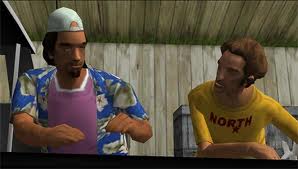 Dwaine
is a supporting character that appears in
Grand Theft Auto: Vice City
and Grand Theft Auto: San Andreas. Dwaine is a mechanic who can be normally be found with his friend
Jethro
. Dwaine was voiced by
Navid Khonsari
.
Biography
1986
Him and Jethro can be seen working on boats at the Boatyard, as seen during the purchase of the Boatyard. After Tommy Vercetti buys the Boatyard, him and Jethro may have left Vice City for San Andreas.
1992
In 1990, Dwaine is shown to run a hot dog van until Carl Johnson recruites him to work as a mechanic in his garage. Dwaine can be seen with Jethro, work on cars in the garage.
Mission Appearances
GTA Vice City
GTA San Andreas
Wear Flowers In Your Hair
Deconstruction
Zeroing In
Test Drive
Puncture Wounds
Trivia
In the beta version of Grand Theft Auto: Vice City, Dwaine and Jethro appeared in the mission The Fastest Boat. Its unknown why they were removed.
Ad blocker interference detected!
Wikia is a free-to-use site that makes money from advertising. We have a modified experience for viewers using ad blockers

Wikia is not accessible if you've made further modifications. Remove the custom ad blocker rule(s) and the page will load as expected.