Florida
(s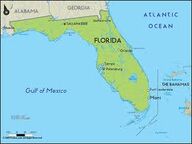 panish for flowery) is a state that located in the southeastern region of the United States. It's bordered by the Gulf of Mexico To the west, the Atlantic Ocean to the east, and the states of Alabama and Georgia to the north. It was added as a state on March 3, 1845 as the 27th state. The state is popular for sports such as tennis, auto racing, and various water sports.
In the game world, Florida is the main setting location for Vice City, a city that appears and serves as the main setting in both Grand Theft Auto: Vice City and Grand Theft Auto: Vice City Stories.
Gallery
Ad blocker interference detected!
Wikia is a free-to-use site that makes money from advertising. We have a modified experience for viewers using ad blockers

Wikia is not accessible if you've made further modifications. Remove the custom ad blocker rule(s) and the page will load as expected.