Fresh FM
is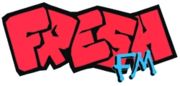 an old school hip-hop/electro
radio station
that is featured in
Grand Theft Auto: Vice City Stories
. The station is hosted by
Luke Campbell
.
By 1986, the station was bought out and replaced by Fever 105. Luke mentioned on the radio that he will never sell the station, but since Fever 105 is the same frequency as Fresh FM, its revealed that Luke does end up selling the station sometime before the events of Grand Theft Auto: Vice City. Wildstyle, a radio station in 1986, is similar to Fresh FM. Fresh FM broadcasted out of s strip club and is technically a pirate radio station, much like Wildstyle.
Playlist
Afrika Bambaataa & Soul Sonic Force - "Renegades of Funk" (1983)
Jonzun Crew - "Pack Jam (Look Out for the OVC)" (1983)
Run-D.M.C. - "It's Like That" (1983)
Planet Patrol - "Play At Your Own Risk" (1982)
The Egyptian Lover - "Egypt, Egypt" (1983)
Art of Noise - "Beat Box" (1983)
Man Parrish - "Boogie Down Bronx" (1984)
Rock Master Scott & the Dynamic Three - "Request Line" (1984)
Midnight Star - "Freak-a-zoid" (1983)
Whodini - "Freaks Come Out At Night" (1984)
Trivia
Ad blocker interference detected!
Wikia is a free-to-use site that makes money from advertising. We have a modified experience for viewers using ad blockers

Wikia is not accessible if you've made further modifications. Remove the custom ad blocker rule(s) and the page will load as expected.