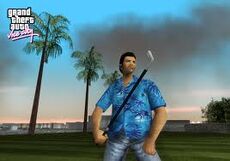 The
Golf Club
is a piece of golfing equipment that also serves as a melee weapon in the Grand Theft Auto series. The weapon appears in both
Grand Theft Auto: Vice City
and
Grand Theft Auto: Vice City Stories
.
Description
The weapon has moderate power and a long reach, allowing the player to attack a whole group of pedestrians at close range. The weapon is

also light weight, allowing the player to run and swing the weapon when weilded. If the player attacks a pedestrian that is lying on the ground, the player will then preform a move called the "golf shot". Its a great weapon to use on people that are lying ground, as the player can finish them off very quickly.
The Golfers in GTA Vice City and GTA Vice City Stories use this weapon as their primary weapon.
Locations
GTA Vice City
Located by the club house inside Leaf Links.
Golfers use this weapon. Waste one to obain one.
GTA Vice City Stories
Located in the north part of Leaf Links Golf Course
Located at the driving range in Leaf Links Golf Course.
South of the bridge that links Leaf Links to Vice Point.
By a tree in the middle of the south island of the golf course.
[NOTE] that entering a Caddy in both games will automatically give the player a golf club, if the player doesn't have a melee weapon already in their melee weapon slot.