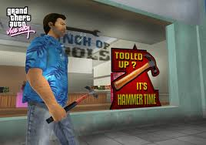 The Hammer is a melee weapon that has only appeared in Grand Theft Auto: Vice City. The hammer has a short swinging range but can do a good amount of damage, causing the person that you struck to fall to the ground. The hammer can be purchased from any of the tool shops in the city for $20.
Location(s)
Can be bought at any tool shop in the city for $20.
Ad blocker interference detected!
Wikia is a free-to-use site that makes money from advertising. We have a modified experience for viewers using ad blockers

Wikia is not accessible if you've made further modifications. Remove the custom ad blocker rule(s) and the page will load as expected.