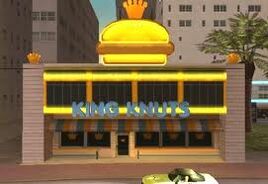 King Knuts
is a fast food chain that is featured in
Grand Theft Auto: Vice City Stories
and Grand Theft Auto: Liberty City Stories. In Grand Theft Auto: Vice City Stories, the player can eat at the resturant by using cheat devices even though the resturants are supposed to be inaccessible to the player. There are resturants located in
Downtown
,
Little Haiti
, and inside the
North Point Mall
in Vice City Stories and resturants located in Trenton, Portland Island and Bedford Point, Staunton Island in Liberty City Stories.
Trivia
The resturant located in Downtown, Vice City would later be the location of the Well Stacked Pizza Co. in Grand Theft Auto: Vice City in 1986.
Ad blocker interference detected!
Wikia is a free-to-use site that makes money from advertising. We have a modified experience for viewers using ad blockers

Wikia is not accessible if you've made further modifications. Remove the custom ad blocker rule(s) and the page will load as expected.