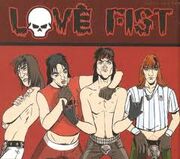 -
Not to be confused with "Love Fist," for the limo with the same name, see Love Fist.
Love Fist is a Scottish hair metal band appearing in Grand Theft Auto: Vice City, and referred to as an easter egg in many of the following games since. The band is composed of Jezz Torrent, Dick, Willy, and Percy. Willy is the only band member that doesn't accompany the band when they go out in the city since Tommy Vercetti chauffeurs them. Tommy preforms various tasks for the band such as buying drugs from a dealer and delivering a girl to the studio to accompany them, and saving the band from a murderous fan out to kill them for ruining his life and attending their "love juice."
Biography
History
The band is managed by
Kent Paul
in 1986 and at the time they are on their "Steel Heart Stone Cold Prostate" tour, which during their stop in
Vice City
, they had security provided by
Mitch Baker's
biker gang
. By 1992 they

are only a three-man band (either Willy or Percy leavs the group). The band broke up at least once between 1992 and 1998, since their billboad is visible in "Liberty City Stories" which advertises the band's comback tour.
During several cutsceens from the missions in GTA Vice City, a little is revealed about the band. Lead singer Jezz Torrent apparently used to bang sheep, drummer Dick is a huge fan of Duran Duran, guitarist Percy sleeps with bunny pajamas, and Willy likes to wear woman's underwear. Jezz Torrent sings about cross-dressing in "Dangerous Bastered" and Tommy accuses the entire band of bisexuality, to which they don't reply.
Mission Appearances
GTA Vice City
Band Members
Jezz Torrent (singer)
Dick (drummer)
Percy (guitarist)
Willy (bassist)
Songs
A Broken Heart Can't Be Mended (Just Broken Again)
Beast Fist
Burry Me Deep Inside
Chin Stainer
Dangerous Bastard
Dangerous Man - Dead Family
Down, Down, Down
Dragon Eyes
Fallen Stars On Shattered Dreams In The Rain
Fist Fury
Fist Till Morning
Four Boys against Your Face
Liver Buster
Satan's Pillows
The Four Scottish Horsemen of the Apocalypse
Take it on the Chin
Stone Cold Prostate
Zinc Deficiency
Albums
Dog on Heat
Fat Chicks All Day All Night
Devil's Own Band
The Number of the Breast
Clear the Custard
Voice Actors
Jezz Torrent- Kevin McKidd
Dick- Russell Foreman
Percy- Peter McKay
Willy- Mark Hanlon
Ad blocker interference detected!
Wikia is a free-to-use site that makes money from advertising. We have a modified experience for viewers using ad blockers

Wikia is not accessible if you've made further modifications. Remove the custom ad blocker rule(s) and the page will load as expected.