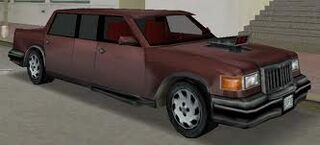 -Not to be confused with "Love Fist," for the band with the same name, see Love Fist.
The Love Fist is a customized limousine that is used by the rockband Love Fist. It only appears in Grand Theft Auto: Vice City.
Description
The Love Fist is a modified version of the game's Stretch. The vehicle is a lot shorter than the Stretch itself and features a customized interior, body work, windows, and a licence plate.
The interior of the vehicle is red and the driver's and passanger's seats are divided by a wall. The back part features a back seat with more seating across from it. The back also features customized black windows that the player can't see through. However, if the doors are damaged then the player will be able to see inside the vehicle.
Outside of the vehicle features a turbocharged engine, the same engine seen on the Phoenix, with side-mounted exhaust pipes, and lacking the Stretch's "TV" mounted antennae. The vehicle also has it's own customized licence plate reading "LUVF1ST," the only car in this series to have it's own customized licence plates.
Mission Appearances
The vehicle appears in two missions, Psycho Killer and Publicity Tour. In Psycho Killer, the band mentions that a murderous fan is after them and may be at the signing event in front of Rock City. They want Tommy to take the limo over to the event to draw out the fan and kill him. Tommy does, kind of.
In Publicity Tour, the band mentions that the psycho is still alive and may be out on the streets. They need a limo driver that they can trust to drive them to the gig. Tommy accepts to be their driver. Upon entering the limousine, one of the band members finds a tape in the vehicle and plays it. They discover that the psycho planted a bomb in their car and the bomb will explode if the car drops below a certin speed. Tommy drives the limo around town while the band defuses the bomb. They do and Tommy takes them to the gig.
Ad blocker interference detected!
Wikia is a free-to-use site that makes money from advertising. We have a modified experience for viewers using ad blockers

Wikia is not accessible if you've made further modifications. Remove the custom ad blocker rule(s) and the page will load as expected.