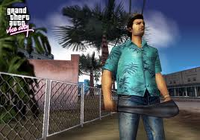 A
Machete
is a powerful melee weapon, that has been featured in
Grand Theft Auto: Vice City
, Grand Theft Auto: Liberty City Stories, and
Grand Theft Auto: Vice City Stories
. In GTA Vice City, the weapon is considered to be heavy, despite the fact that the protagonist is unable to sprint with the weapon. When a pedestrian is struck by the weapon, the pedestrian will take half the damage than that of a
Meat Cleaver
, and they will leave behind a larger blood trail. Because of this, the Machete is the best choice for a melee weapon to replace the absent
Chainsaw
. The style of the weapon is based off of a Brazilian straight-grip, a large blade variety used for clearing brush. In GTA Vice City Stories, the HUD icon of the weapon looks more like a
knife
with an extended blade.
Locations
GTA Vice City
GTA Vice City Stories
Located in the middle of a basketball court in Little Havana.
Available to buy from the Stonewall J's store in Little Havana for $100.
Ad blocker interference detected!
Wikia is a free-to-use site that makes money from advertising. We have a modified experience for viewers using ad blockers

Wikia is not accessible if you've made further modifications. Remove the custom ad blocker rule(s) and the page will load as expected.