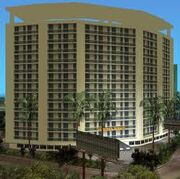 Marina Sands Hotel is a hotel that has appeared in both Grand Theft Auto: Vice City and Grand Theft Auto: Vice City Stories. The hotel is located in Ocean Beach, Vice City.
The hotel is located across the street from The Ocean View Medical Foundation and the Ocean Bay Marina. The hotel isn't mentioned at all in GTA Vice City. In GTA Vice City Stories, the hotel is a choice for Phil Collins before his concert.
Trivia
The name of the hotel may be based off of the Marina Bay Sands hotel's name, located in Singapore, Singapore..
The hotel uses the same layout and design as the Ducum Inn in Vice Point. It also uses the same textures.
Ad blocker interference detected!
Wikia is a free-to-use site that makes money from advertising. We have a modified experience for viewers using ad blockers

Wikia is not accessible if you've made further modifications. Remove the custom ad blocker rule(s) and the page will load as expected.