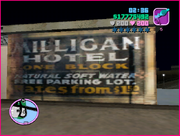 Milligan Hotel 
is a closed hotel business in
Prawn Island
. The Milligan Hotel is situated on the 1st floor, opposite side of the first block, in Prawn Island. The Milligan Hotels' sign is based on the real life ghost sign of a hotel of the same name since 1980s in Montana, Miles City. The hotel charges rates starting from 150$ and offers free parking along with soft water service. However there is only one small entrance to the hotel with a parking lot sign, although no such parking lot exists.
Gallery
Ad blocker interference detected!
Wikia is a free-to-use site that makes money from advertising. We have a modified experience for viewers using ad blockers

Wikia is not accessible if you've made further modifications. Remove the custom ad blocker rule(s) and the page will load as expected.