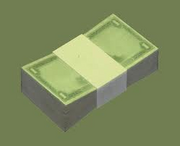 Money is a item that appears in all Grand Theft Auto Games. Money allows the player to purchase weapons, safehouses, and businesses throughout a city.
How to Earn Money
Money can be earned in many ways. Money can be earned by completing a mission or a side-mission. Also it can be earned by killing pedestrians, destroying police helicopters, picking up pedestrians at a bus stop, doing vehicle side-missions, helping an officer beatdown a criminal earning the player $50, and distributing items.
See Also
Ad blocker interference detected!
Wikia is a free-to-use site that makes money from advertising. We have a modified experience for viewers using ad blockers

Wikia is not accessible if you've made further modifications. Remove the custom ad blocker rule(s) and the page will load as expected.