The North Point Mall is a two story mall located in northern Vice Point, and located in northeast Vice City. It is home to most of Vice City's shopping business. The mall appeared in both Grand Theft Auto: Vice City and Grand Theft Auto: Vice City Stories.
Description
Layout
The mall, when viewed overhead, is shaped like an "H." Its one of largest indoor malls in the Grand Theft Auto series. A massive atrium bisected by a large pedestrian bridge with a large number of businesses along the edge of the floorspace. Most of these businesses inside of the mall can't be accessed. The mall comes equipped with working escalators, as well as a adjoining miltistory carpark and six street level entrances.
Businesses
Businesses inside the mall range from food and clothes to firearms and record stores. In the events of GTA Vice City, there are two weapon stores inside of the mall, one for firearms and one for melee weapons. The latter doesn't appear in 1984. These reasons are unknown. The food court in the mall can be used by the player if their health is below their max health limit.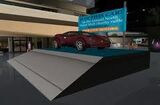 In GTA Vice City, an
Infernus
can be seen on display at the north end of the mall, intended as a prize from the mall's annual charity raffles. The raffle can't be entered but the player can steal the car, attracting
police
attention
in the process.
In Vice City Stories, the mall is the only place that a red balloon is located within an accessible place. A rampage is also available, as well as a side-mission called Mashin' Up The Mall.
Known Businesses
GTA Vice City
GTA Vice City Stories
Gang Control
Up until the player competes Rub Out in GTA Vice City, the only known gang spawning around the mall is the Patrol Invest Group. A common occurrance around the mall at night are groups of leather jacket-clad men hanging around in groups, occasionally engaging in fights with the police and sometimes the Patrol Invest Group. After completing Rub Out, the Streetwannabes will be seen spawning around the mall, engaging in fights with the Patrol Invest Group and sometimes the police. Even though they are protecting the mall, the businesses pay their protection to the Vercetti Gang.