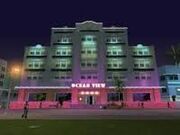 The
Ocean View Hotel
is a hotel that appears in
Grand Theft Auto: Vice City
and
Grand Theft Auto: Vice City Stories
. The hotel is located on
Ocean Drive
in
Ocean Beach
,
Vice City
, next door to the
Front Page Café
. The hotel also serves as one of the player's safehouses in GTA Vice City.
The hotel is accessible to the player in GTA Vice City as the
save point
is located inside. The hotel features a lobby with a check-in desk and a small dining area with tables and chairs. There is a stairway behind the dining area that leads up to the second floor of the hotel. Here, the player can access
Tommy Vercetti
's room that also features furnature and a
Street Outfit
pickup.

As the player progresses throught the game, the room will begin to feature stuff like
boomshine barrels
after
Boomshine Saigon
, a bag of money will be laying on the bed from
The Job
, and even a broken
hidden package
that is leaking cocaine will be sitting on the bar table after collecting all the hidden packages. The hallway outside the room is a spawning place for weapons that the player is rewarded after collecting 70 hidden packages.
The hotel is also featured in Grand Theft Auto: Vice City Stories, but it is inaccessible to the player and the hotel is unnamed.
Gallery
Ad blocker interference detected!
Wikia is a free-to-use site that makes money from advertising. We have a modified experience for viewers using ad blockers

Wikia is not accessible if you've made further modifications. Remove the custom ad blocker rule(s) and the page will load as expected.