Pastor Richards



Appearance(s):

Grand Theft Auto: Vice City

Gender:

Male

Place of Birth:

?, Mars, Alabama, USA

Nationality:

American

Main Affiliation:

Juan Garcia Cortez

Voiced by:

David Green
Pastor Richards
is a character in the Grand Theft Auto series, who serves as a minor character in
Grand Theft Auto: Vice City
. Pastor Richards was voiced by
David Green
. Richards was supposed to have a larger role in the game, but Green passed away during the development of the game.
Biography
Background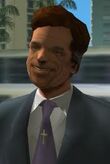 Richards is a corrupt and a holly insane televangelist from Mars, Alabama who promises people salvation that make large donations to him (who later reveals that he was actually going to use the money to build himself a large mansion in Hawaii) while serving as a guest on
VCPR
.
1980s
By the end of The segment on VCPR, Pastor Richards gets disgusted by Barry Stark's nudism. So in response, he pulls out a gun and shoots Stark in the genitals, causing Jan Brown to pass out. Barry survives and is "in need of a proctologist." Richards claims the radio station as his own for a while. Pastor Richards was invited to Juan Cortez' boat party at the beginning of the game, the only time that he makes an appearance.
VCPD Crime Tree Record
Maniac firebrand preacher, obsessed with money.
Has written several awful books. All completely fabricated. Most given away.
Obsessed with degenerates. Has been campaigning to build a large statue in his own image.
Has been attempting to bribe officials at NASA for rocket technology.
Believed to be embezzling money from the fund for a private mansion in Hawaii.
Possible polygamist.
Hates people who help others.
Fervent anti-communist.*
Obsessed with nuclear winter.*
Hateful human being, but menace to society uncertain at present.
Mission Appearances
GTA Vice City
Trivia
Pastor Richards was supposed to give Tommy Vercetti a mission in the game, but the mission was removed due to the death of David Green, Pastor Richards' voice actor.
Ad blocker interference detected!
Wikia is a free-to-use site that makes money from advertising. We have a modified experience for viewers using ad blockers

Wikia is not accessible if you've made further modifications. Remove the custom ad blocker rule(s) and the page will load as expected.