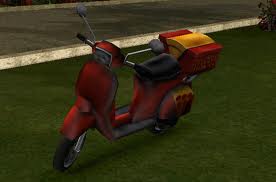 -Not to be confused with "Pizza Boy", for the side-mission with the same name, see Pizza Boy.
A Pizza Boy is a pizza delivery scooter that appears in Grand Theft Auto: Vice City Stories, Grand Theft Auto: San Andreas, and Grand Theft Auto: Liberty City Stories. In GTA San Andreas and GTA Liberty City Stories, the vehicle is referred to as a "Pizzaboy".
Description
Pizza Boy takes its appearance from a Faggio and serves as the main pizza delivery vehicle for Well Stacked Pizza Co. Its only different from a Faggio by its red color, green in Liberty City Stories, and its top cargo for storing pizzas in. All Pizza Boys in the games all have the same preformance as a Faggio.
Side-Mission
Pizza Boy is used in the side-mission with the same name. The mission requires the player to deliver pizzas to customers around the city before the timer runs out. Completing the side-mission is required for 100% Completion and the player will be rewarded for completing the mission.
Notable Owners
Carl Pearson used the vehicle in the mission Road Kill. He probably doesn't own it but still used the vehicle.
Locations
GTA Vice City
Found at any Well Stacked Pizza Co. located around the city.
Ad blocker interference detected!
Wikia is a free-to-use site that makes money from advertising. We have a modified experience for viewers using ad blockers

Wikia is not accessible if you've made further modifications. Remove the custom ad blocker rule(s) and the page will load as expected.