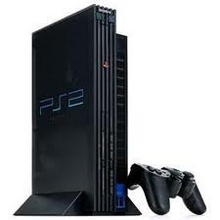 The
PlayStation Two
,
PlayStation 2
or
PS2
, is the successor of Sony's original PlayStation (PS1). It features an improved CPU, better graphics, online gaming capable with certain games, two USB ports, two Memory Card ports and two DuelShock ports. It went on the market in the early 2000s, and is considered one of the most popular and greatest video gaming consoles of all time. It is also one of the best selling video game consoles of all time.
The PS2 has been superseded by the PlayStation 3, which (alongside the Xbox 360 and Nintendo Wii) is a current-generation gaming console, and is the platform for Grand Theft Auto IV and its episodes.
GTA games for the PS2
Grand Theft Auto III (2001)
Grand Theft Auto: Vice City (2002)
Grand Theft Auto: San Andreas (2004)
Grand Theft Auto: Liberty City Stories (2006)
Gallery
Ad blocker interference detected!
Wikia is a free-to-use site that makes money from advertising. We have a modified experience for viewers using ad blockers

Wikia is not accessible if you've made further modifications. Remove the custom ad blocker rule(s) and the page will load as expected.