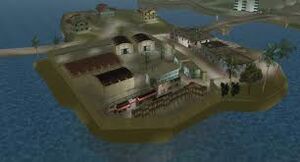 Prawn Island
is one of
Vice City
's three islands, and located in northern Vice City. The island was home to rich and wealthy people before it was taken over and vandalized by the
Streetwannabes
.
Description
Prawn Island is mainly divided into two sections, the film studio and businesses to the south and homes to the north. The island had beautiful villas and was once home to the Mendez brothers and their mansion in 1984. Shortly after Victor Vance killed them, their mansion and island fell into the hands of the Streetwannabes.
Around 1986, most of the businesses and houses on the island are all vandalized and boarded up. The only business still operating on the island is InterGlobal films, home to the city's pornographic film industry, which Tommy Vercetti later buys.
Residents
Armando Mendez (?-1984)
Diego Mendez (?-1984)
Others
Vehicles
GTA Vice City
Gang Burrito- Found parked in front of the Mendez Mansion.
Packer- Parked in the back of InterGlobal Films.
Patriot- Parked behind the Liberty City street scene, near the blue gates.
Skimmer- Spawns behind the InterGlobal Films after Dildo Dodo.
GTA Vice City Stories
Sentinel XS (x2)- Parked in front the Mendez Mansion
Caddy- ?
Deluxo- ?
JetSki- ?
BMX- ?
Burrito- ?
Coach- Located inside the InterGlobal Films.
Weapons
GTA Vice City
M4- Behind the moon lander in InterGlobal Films.
UZI 9mm- On the front porch of the Mendez Mansion.
Pistol- Wasting Streetwannabe gangsters makes them drop this weapon.
GTA Vice City Stories
Flamethrower- ?
M249- ?
Equalizer
Pickups, Icons, Collectibles
GTA Vice City
GTA Vice City Stories
Businesses
Trivia
There is a man with concrete shoes located in the InterGlobal Films studios lot in the southeast corner.
Prawn Island sounds like Porn Island when spoken fast.
Ad blocker interference detected!
Wikia is a free-to-use site that makes money from advertising. We have a modified experience for viewers using ad blockers

Wikia is not accessible if you've made further modifications. Remove the custom ad blocker rule(s) and the page will load as expected.