Roxor International
is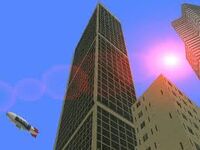 a skyscraper that is located in
Downtown
,
Vice City
. It takes it's name from Roxor Games, a video games developer similar to
Rockstar Games
. The tower isn't accessible to the player nor is the roof because of the limited helicopter ceiling height and the lack of a front enterance. The tower is measured to be 251 m (823 ft.) and is listed as the third tallest building in Vice City
Trivia
If the player enters in the "All Cars Fly" cheat and faces the turret behind the Rhino, its possible to reach and land on the roof of the tower, as the roof is solid.
Gallery
Ad blocker interference detected!
Wikia is a free-to-use site that makes money from advertising. We have a modified experience for viewers using ad blockers

Wikia is not accessible if you've made further modifications. Remove the custom ad blocker rule(s) and the page will load as expected.