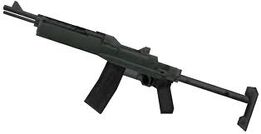 The
Kruger
(or
Ruger
from the PS2 version), whuch appears only in
Grand Theft Auto: Vice City
.
Information
The weapon is based on the real life Ruger AC556F law enforcement version of the Mini-14 rifle.
Like the M4 on the game, it has no auto-aim but can be manually aimed. The main difference from the M4 is that it has a poor firing rate.
Location(s)
Found on the roof in the back of the El Swanko Casa safehouse
Available to buy from the Ocean Beach Ammu-nation for $1,000 after Guardian Angels.
Gallery
Ad blocker interference detected!
Wikia is a free-to-use site that makes money from advertising. We have a modified experience for viewers using ad blockers

Wikia is not accessible if you've made further modifications. Remove the custom ad blocker rule(s) and the page will load as expected.