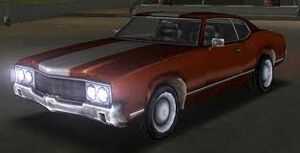 The
Sabre Turbo
is a muscle car that appears in
Grand Theft Auto: Vice City
and Grand Theft Auto: Vice City Stories.
Discription
Design
The car takes its body design from the Sabre. The car doesn't have much difference to it besides that it has a V8 engine sound and a unique permanent paint color. In GTA Vice City, the car features a red body color and with a cream racing stripe. The car in GTA Vice City Stories always has a light green racing strip while the body color can be changed.
Preformance
The car has good acceleration and good balance. The car features a modified engine that emits a noise that is associated with turbo-charged engines.
In GTA Vice City Stories, it has the same preformance to that of a Polaris V8.
Known Owners
Location(s)
GTA Vice City
GTA Vice City Stories
Found parked in a parking lot by the airport in Viceport.
Always parked outside the player's empire sites.
Trivia
The Sabre Turbo playes the following station, Wildstyle, by default when entered in GTA Vice City.
In a GTA Vice City Intro, during the purchase of Sunshine Autos, a Sabre Turbo can be seen with double taillights while the in-game one has single taillights.
The player can try and obtain a unique Sabre Turbo during the GTA Vice City mission The Driver. However the car is hard to obtain.
Gallery
Ad blocker interference detected!
Wikia is a free-to-use site that makes money from advertising. We have a modified experience for viewers using ad blockers

Wikia is not accessible if you've made further modifications. Remove the custom ad blocker rule(s) and the page will load as expected.