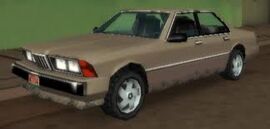 A
Sentinel
is a luxury, four-door sedan that was first introduced in Grand Theft Auto III. In Grand Theft Auto IV, the game introduced the two-door Sentinel.
Description
Design
In Grand Theft Auto: Vice City, the design of the vehicle resembles a BMW 7 series E23 with a lengthened body. In Grand Theft Auto: Vice City Stories, the car is almost the same as the one from Vice City but the car takes its appearance from a E24 BMW 6-series car due to the forward tilted headlights and grill. There are also several significant cosmetic changes to the vehicles that make them different in both games; the GTA Vice City Stories rendition appears less on the street than its counterpart, the Sentinel XS, which has not recieved the same degree of changes.
Variants
In most games, this includes GTA VC and GTA VCS, the car has a counterpart, the Sentinel XS (see page for more information).
Special Colors
Black Sentinel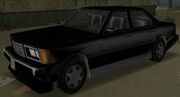 A unique black Sentinel appears during the GTA VC
mission
"
Hit The Courier
". The player can obtain the car by killing the driver of the vehicle after she enters it, but must not exit the car until they enter a garage, as exiting the car will lock the player out.
Another way to obtain a black Sentinel is by entering in the "Black Cars" cheat. After the cheat is entered, the vehicles on the street will all appear black, allowing the player to obtain any black vehicle they want, including a black Sentinel.
Locations
GTA Vice City
One is found parked at Sunshine Autos, reguardless whether the player owns the showroom or not.
GTA Vice City Stories
Trivia
"Sentinel" refers to a sentry or guard, or the act of guarding.
Gallery
Ad blocker interference detected!
Wikia is a free-to-use site that makes money from advertising. We have a modified experience for viewers using ad blockers

Wikia is not accessible if you've made further modifications. Remove the custom ad blocker rule(s) and the page will load as expected.