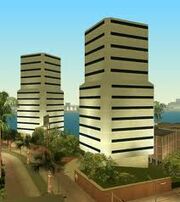 The Ocean View Medical Foundation is a medical branch of the Ocean View Hospital. It consists of a pair of matching twin towers and appears in both Grand Theft Auto: Vice City and Grand Theft Auto: Vice City Stories. Its located south of the Ocean Bay Marina, north of the Ocean View Hospital, and across the street from the Marina Sands Hotel. The functions of the foundation remains unknown although it may be used to manage medical training of funding. The towers are inaccessible to the player.
Pickups
One Rampage: On the grassy platform on the right side of the first tower.
One Hidden Package: Behind the first tower.
Ad blocker interference detected!
Wikia is a free-to-use site that makes money from advertising. We have a modified experience for viewers using ad blockers

Wikia is not accessible if you've made further modifications. Remove the custom ad blocker rule(s) and the page will load as expected.