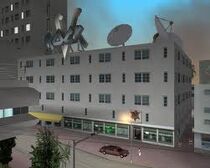 The
V-Rock Recording Studio
, simply called the
Recording Studio
in the game, is a building that is located in
Downtown
,
Vice City
. As the name says, the building is home to
V-Rock
, a radio station that is featured in both
Grand Theft Auto: Vice City
and
Grand Theft Auto: Vice City Stories
.
In 1986, the events of GTA VC, the station makes major appearances in missions. Also, this is where Tommy Vercetti meets Love Fist, a rock band based in the game. From here, the band gives Tommy various tasks that would help them prepare for there gig, such as getting drugs for them and protecting them from a murderous fan.
Trivia
The V-Rock station is the only known location of a radio station in Vice City. The locations of the other radio stations are unknown.
Ad blocker interference detected!
Wikia is a free-to-use site that makes money from advertising. We have a modified experience for viewers using ad blockers

Wikia is not accessible if you've made further modifications. Remove the custom ad blocker rule(s) and the page will load as expected.