V.C. Endurance
is a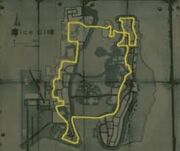 street race side mission available in
Grand Theft Auto: Vice City
. This race, along with the others are provided by
A+B Auto
 and is only available after the player purchases
Sunshine Autos
.
Starting the Race
To start the race, go the Sunshine Autos Import Garage. Go to the pink marker and select "V.C. Endurance". In order to enter the race the player must pay a fee of $10,000, making this race the most expensive of them all. Once the fee is paid, the HUD will tell the player where to go. Get a car and drive to the designated spot.
The Race
This race takes place around all of Vice City, with every neighborhood included (minus Fort Baxter Air Base, Leaf Links and Starfish Island. This race is the longest of all Vice City Street Racer events, with a total track length of 9.721km (6.040 miles).
Reward
The reward for placing first in the race is $40,000 and a step closer to 100% Completion.
Ad blocker interference detected!
Wikia is a free-to-use site that makes money from advertising. We have a modified experience for viewers using ad blockers

Wikia is not accessible if you've made further modifications. Remove the custom ad blocker rule(s) and the page will load as expected.