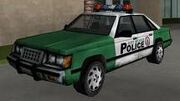 VCPD Cruiser
, also called
Police
in GTA VC, is a law enforcement vehicle, that is used by the
Vice City Police Department
. The car appeared in both
Grand Theft Auto: Vice City
and
Grand Theft Auto: Vice City Stories
.
Appearance
The car resembles a Ford LTD. The only differences to the cars in both games is that the car in GTA VCS features a light grey front and rear bumpers while the car in GTA VC features dark grey colored bumpers. Also, the cars feature different rim designs.
Beta Version
In the beta version of Grand Theft Auto: Vice City, the car originally featured a white body color with red and blue stripes running across the body. The "Police" lettering was in red print while the "City of Vice" featured blue print.
Handling
In both games, the cars are fast, light, and prone to tip over easily if the cars hit some sort of ramp or turn a corner at fast speeds. The car features two sires; one default "long-whirl" and the "rotating-weep" which can be triggered by holding the horn button. Also the car features a Shotgun, that will give 5 rounds of ammunition when the vehicle is entered.
Locations
GTA Vice City and Vice City Stories
The cars can be found at every police station in Vice City.
Gallery
Ad blocker interference detected!
Wikia is a free-to-use site that makes money from advertising. We have a modified experience for viewers using ad blockers

Wikia is not accessible if you've made further modifications. Remove the custom ad blocker rule(s) and the page will load as expected.