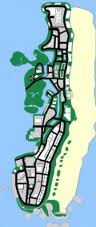 Vice City Beach
is the name of the large eastern island in
Vice City
. The area is also the more affluent part of the city in both
Grand Theft Auto: Vice City
and
Grand Theft Auto: Vice City Stories
. The area has three districts;
Vice Point
to the north,
Washington Beach
in the middle, and
Ocean Beach
to the south. The area also has two island districts;
Leaf Links
and
Prawn Island
. The beach, which is named the same name, makes up most of the lands landmass.
Vice City Beach is where most of Vice City's millionaires and models hang out. In the game, pedestrians can be seen walking, jogging, or skating along the boardwalk. Most of the buildings along the boardwalk mostly have an Art Deco design.
Landmarks
Tommy Vercetti's first safehouse, the Ocean View Hotel, is located along the board walk. Lance Vance's house can be seen south of the hotel next to a landing pad. A hospital is located in western Ocean Beach and Ken Rosenberg's office is located north of it. Across from Rosenberg's office is another safehouse that the player can buy. A police station can be seen located in Washington Beach as well as the Malibu Club. The North Point Mall is located in northern Vice Point.
The island in the 1984 had several landmarks that were removed before the events of Vice City. Some of these landmarks included the Chunder Wheel, located in a small amusement park that was removed.
Districts
Leaf Links is a golf course that is located in the middle of the entire city. The golf course is based off of Bayshore Municipal Golf Course, La Gorce Country Club and Normandy Shores Golf Course in Miami Beach, and the Indian Creek Country Club and Haulover Park in Florida.
Ocean Beach is located in the south portion of Vice Beach. The area is based off of South Beach in Miami Beach, Florida.
Washington Beach is located in the middle of the land. The area is based off of Mid-Beach in Miami Beach, Florida.
Vice Point is located in the north part of the island. It is based off of North Beach.
Ad blocker interference detected!
Wikia is a free-to-use site that makes money from advertising. We have a modified experience for viewers using ad blockers

Wikia is not accessible if you've made further modifications. Remove the custom ad blocker rule(s) and the page will load as expected.