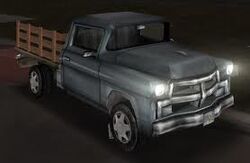 A
Walton
is an old style pickup truck that appears in
Grand Theft Auto: Vice City
, Grand Theft Auto: San Andreas and
Grand Theft Auto: Vice City Stories
.
Description
Design
In all the game that the truck appeared in, the truck resembles a 1955 2nd series to a 1959 Chevrolet (GMC) truck although the front resembles a 1954 to a 1955 Chevrolet truck. The back features a small stake bed that provides a decent sized flat bed surface area.
In GTA San Andreas, the Walton will sometimes appear to be carring load in the back, such a wooden pallets or propane tanks that won't explode if shot at. Unlike in GTA VC or GTA VCS, the truck also features a tailgate.
Preformance
In GTA VC and GTA VCS, the Walton has a moderate acceleration and speed with sluggish controls, probably relating to the vehicle's age. The engine power of the Walton in GTA SA is poor as the vehicle struggles going up steep inclines.
Special Colors
White Waltons
GTA VC and GTA SA both feature special, white colored Waltons as white isn't an available color for Waltons.

During the GTA VC mission "
Gun Runner
" for
Phil Cassidy
, four white Waltons appear as a transportation vehicle for a local gang of gun runners that the player must kill. In fact, in order to complete the mission, the player must also destroy the vehicles. There is a way around this. After collecting all of the guns, then collect the last working Walton and park it in a garage. Destroy the car in the garage to complete the mission, then let the garage door close. Once the door reopens, the Walton will then appear in working order.
Locations
GTA Vice City
Can be found being driven around Viceport.
GTA Vice City Stories
Ad blocker interference detected!
Wikia is a free-to-use site that makes money from advertising. We have a modified experience for viewers using ad blockers

Wikia is not accessible if you've made further modifications. Remove the custom ad blocker rule(s) and the page will load as expected.